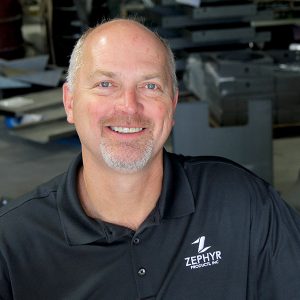 A fifth generation Kansan, Randy grew up learning the value of hard work on his family dairy farm near Erie, KS. He graduated from Kansas State University with a BS in Agricultural Economics and spent the first 10 years of his career as a commercial loan officer at UMB and Boatmen's. He discovered a love for business management and manufacturing when he bought into Zephyr in 1993. Randy is passionate about helping others, whether our talented team of Zephyr employees and their families (fondly knows as "the Zephyr family" around here) or the men of Brothers in Blue Reentry where he serves on the Board of Directors. A pragmatic eternal optimist, he believes we can do anything if we keep our eyes up, our head down, and focus and set our mind to it! Despite her MU/KU roots, Randy has been married to his beautiful wife and feisty partner, Cheryl, since 1989 and considers himself beyond blessed to do life each day with his amazing family.
The ultimate multi-tasker, David enjoys his role as GM at Zephyr because every day brings a new challenge. His leadership and problem-solving skills are based on the experience he has gained since starting at Zephyr in 2004.  In his previous positions at Zephyr, David learned estimating, order entry, how to implement new equipment and refine processes, but his most valuable experience was learning to juggle the ever-changing and competing demands of Zephyr's fast-paced manufacturing environment. His greatest skill is communicating and working with the Zephyr team to achieve the best results for our customers. His favorite part of his job is helping others be successful and achieve their full potential. David is an avid KU fan (much to Randy's chagrin). He credits his work ethic to his parents' example as he grew up on a dairy farm near Nortonville, Kansas. He is married to Jenny, the love of his life and best friend since 1992.  He was thrilled to welcome their first grandchild in October, 2017 and over joyed when another arrived in August of 2019.  When he isn't at work, he is in full grandpa mode and just can't get enough of them!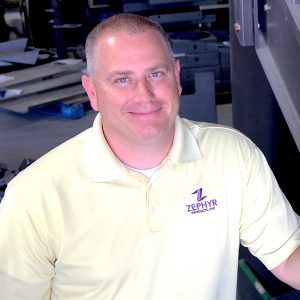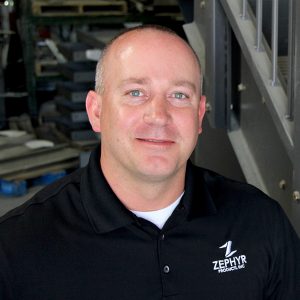 Ryan came to Zephyr in 1996 after earning his drafting certificate from Highland Community College. He began his career as a draftsman and quickly established himself as a leader for the product design team. Ryan is also responsible for quality control throughout Zephyr. Ryan enjoys working with new products from our customers and is very passionate about Zephyr's quality program. Ryan is married to his high school sweetheart Laura, they have three wonderful children and two amazing grandchildren who absolutely completes their family. In his spare time, Ryan enjoys golfing, going on long walks with his beautiful wife, spending time with the family and passionately rooting on the Chiefs, Royals, and Jayhawks.
Jason makes the world a little bit better place every day. As welding manager and AWS-certified welding inspector/educator at Zephyr, Jason is a visionary who absolutely insists on seeing the big picture and pushing the envelope in new and better ways to make the customer successful. When he is not shaking it up at Zephyr, he gives countless hours mentoring men in Lansing Correctional Facility where he was named the 2015 Volunteer of the Year by the Kansas Department of Corrections. Jason also serves on the Advisory Board of Reaching Out from Within where he previously served on the Board of Directors and as President. He is passionate about spending time with his family, reading, and fitness.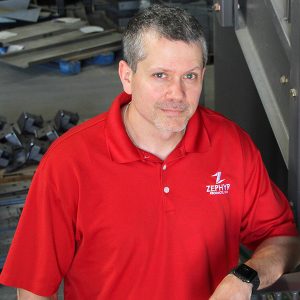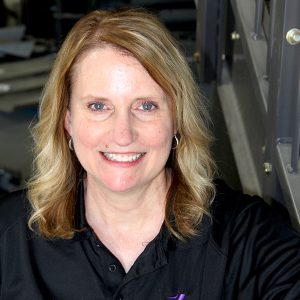 Laura graduated from DMACC with an Accounting Specialist AAS degree. She started at Zephyr in 1993 in the accounting department and has served as office manager before assuming the responsibilities of Controller. She has seen a lot of changes and managed a lot of growth as Zephyr has grown over the 25 years since she began her career here. Laura oversees accounting, payroll, and human resources. Laura lives in Lansing with her husband of 36 years, Jim. They enjoy motorcycle trips and spending time spoiling their grandchildren.